By: Caroline Kirby
Preparing a training program can be daunting. Luckily, there are countless resources out there to help you organize your thoughts. On my first day as training coordinator, I was handed two books to read and study. These books were "Telling Ain't Training" by Harold D. Stolovitch and Erica J. Keeps, and "Preparing Instructional Objectives" by Robert F. Mager. Although I've read countless training and adult education books since then, these two created the platform on which I've based every training program, presentation and course I've created at Plunkett's Pest Control.
In "Telling Ain't Training," Stolovitch and Keeps dive into the adult learner and provide a five-step model for structuring training. This model begins with the creation of a rationale. The rationale is designed to justify the training and give an overview of where the session is heading. The justification can be especially helpful if the reason for the training makes sense to and is valued by the learner. Then, the learner has more motivation to learn. Learners, especially adult learners, retain information more easily if their mind is open and ready to take in new information. The key is to show what's in it for them. This is accomplished through providing a rationale. This overview also can build a desire to learn by emphasizing how useful, exciting and engaging the session will be for the learners.
The second step to designing a training program is creating learning objectives. As stated in "Preparing Instructional Objectives," an instructional objective is a statement that will describe what the learner will be able to do or say after taking part in the training. Instructional objectives are specific, measurable, short-term, observable behaviors. They indicate the desirable knowledge, skills or attitudes to be gained.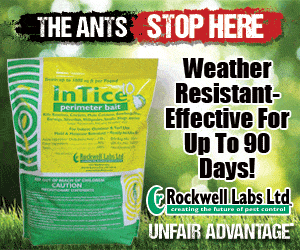 MEASURING YOUR LEARNERS.
 As a trainer, your effectiveness is measured by the success of your learners. The more concrete and verifiable the learning objectives, the more quickly you can identify their successes or shortcomings. The level of success for the training can be assessed from the outcomes in relation to the learning objectives. In the case of initial training, success may be measured by scoring a passing grade on the state exam. In other settings, accomplishments may be measured by the technician's ability to perform a new skill, respond to a client or control a problematic pest in a new way. There is no way to measure the success of the training and whether important instructional outcomes have been accomplished without clearly stated learning objectives.
Well-defined learning objectives also provide your learners with a means to organize their own efforts toward the accomplishment of the objectives. Experience has shown that with clear learning objectives in view, students at all levels are better able to decide what activities on their part will help them get where they need to go. This is especially true when teaching adult learners as they want to know what should be learned, what they will be able to do as a result of learning and see how all the pieces fit together.
The third step in designing a training program is to develop activities that lead to attaining the performance objectives. If learners do things that lead directly to meeting the objectives, there's a better chance they will obtain the desired skills and knowledge. This means that the trainer creates or selects only those activities that lead the learner directly to meeting each objective. Selected activities must be meaningful. Active, conscious response during the training is essential for comprehension and recall. Merely telling the learner what you want them to know is not effective. The learner must be completely mentally engaged to learn. In fact, the more a learner actively responds to learning the content, the better they learn and retain it. Active responses can take the form of answering a question, filling in a blank, labeling something, solving a problem, making a decision, or even discussing and arguing. It can take any form as long as it elicits an active response to the content. Remember, "Telling Ain't Training!"
The final two steps of the five-step model are evaluation and feedback. Evaluation is a crucial step in the program because if learners are assessed on what they are supposed to learn, they have a better chance of learning it. Evaluations should be done in terms of the performance objective and not the person. This means that you must verify the degree to which each learner has met each objective for the desired level of performance. By providing feedback, learners are able to understand what they are doing well and what needs to be corrected. Helpful feedback provides corrective steps and additional information to support learning. It is more than pointing out your learner is incorrect. When learners receive information on how well they are learning, they tend to learn better. For this reason, feedback should be consistent throughout the training session.
Putting it All Together. By applying this five-step model — rationale, objectives, activities, evaluation and feedback — you increase the probability of learning. Learning effectiveness is not in the packaging but the design and instruction. By taking the time to create a meaningful rationale and developing specific, measurable and observable learning objectives based on behaviors, you can set your learners and yourself up for success. Add a few active, meaningful activities and a process for evaluating whether the learner has met your objectives, and you'll effortlessly have a successful training program or session.
Caroline Kirby, ACE, is the Training Coordinator at Plunkett's Pest Control and is a member of the Copesan Technical Committee. She has a master's degree in adult education from the University of Minnesota and a B.S. in wildlife ecology — natural resources from the University of Wisconsin. 
This Tech Talk article was originally published in the March 2020 edition of PCT magazine.